The ITG business solution: simplify your life, outsource and delegate the management of your external skills!
A FLEXIBLE, SECURE THREE-WAY RELATIONSHIP
Wage portage is an innovative formula that lets you securely call on experts in all areas of service (HR, IT, Purchasing, Marketing, Engineering, and more), and work with everyone from recent graduates to retirees, without increasing your payroll, for assignments of up to three years.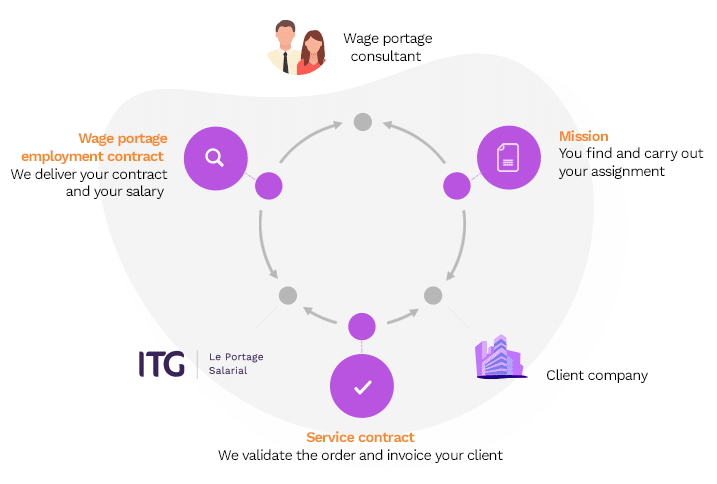 WHAT ARE THE ADVANTAGES FOR COMPANIES THAT USE FREELANCE WORKERS ON A WAGE PORTAGE BASIS?
Wage portage is becoming increasingly popular among independent professionals, but it's not just for them. Companies also benefit from the advantages of calling on ported employees for assignments. If you have any questions, please contact us at: business@itg.fr
WHY IS PORTAGE IDEAL FOR COMPANIES?
Portage is the ideal solution for companies of all sizes that want to call on external skills and have consultants work autonomously on your behalf. These consultants are employed by a third party, the portage company. This system offers many advantages when managing your service providers.
HOW CAN YOU MAKE LIFE EASIER FOR YOUR COMPANY?
Post-retirement collaboration
Your retired or soon-to-retire employees benefit from our unrivaled experience and valuable expertise to ensure that your business continues to run smoothly and that knowledge is transferred to your teams. We offer a solution to help you choose the best status, so you can continue to work together with your most valuable experts, even after they have retired.
Our international offer
We help companies who want to gain international market share to set up their collaboration with seconded employees: whether they are French companies who want to expand internationally, or foreign companies who want to set up in France.
Intuitive administrative portage*
Our intuitive back-office helps companies who are working with several external consultants to free themselves from all administrative tasks, and to manage their pool of independent workers and all their documents and insurance. We also have a state-of-the-art social network to help you work together with these consultants.
*Via our partners at Groupe Freeland
IF YOU WORK WITH FREELANCERS: WHY SHOULD YOU CHOOSE ITG BUSINESS SOLUTIONS?
The assurance of working with a leader
Consultant training: how to prospect for clients by phone. ITG is France's leading wage portage group, with revenues of over €116 million in 2018 and 4,000 active consultants worldwide. Since its creation in 1996, ITG, an active member of the Wage Portage Employment Professional Association (PEPS), has been involved in constructing a regulatory framework for the profession and has worked toward compliance with the highest standards. Its Chairman, Patrick Levy-Waitz, is also Vice-Chairman of industry negotiations for PEPS.
A dedicated contact for corporate solutions
ITG provides you with a dedicated contact at ITG Business Solutions, who will be your single point of contact and will advise you on setting up your business contracts, and then will support you throughout the process, so you can make the best decisions. ITG Business Solutions helps you simplify the management of your external consultants and guarantees that consultant assignments run smoothly. Your contact is also the consultant's dedicated contact.
Financial strength
ITG has taken out Professional Civil Liability Insurance covering the legal and financial liability of assignments for up to €5,000,000 per assignment. ITG also has a salary guarantee of €5,100,000 and an average cash flow of €30M – the largest guarantee and cash flow on the market.
Strict compliance with social rules
At ITG, all social rules are respected, in particular those laid down by the Pole Emploi French employment service for portage companies. ITG experts benefit from employment contracts that entitle them to a standard salary and professional training. The company has a staff representative body (works council).
OUTSOURCING GUIDE
Outsourcing is the use of an external service provider. From an economic point of view, this is an agreement between an organization and a third party for the performance of an assignment. This agreement may involve:
An entire organizational department (such as IT, HR, etc.)
Infrastructure (cybersecurity systems, telecommunications networks, etc.)
An operational process (industrial production, logistics, etc.)
From a legal point of view, these are temporary contracts involving the transfer of all or part of a task.
THE ADVANTAGES AND DISADVANTAGES OF OUTSOURCING
The advantages of outsourcing
Outsourcing offers many advantages:
Controlling and reducing the company's operating costs. For example, when a company decides to outsource its cybersecurity system, its only major cost is the cost of the service, which costs less than if the company had its own system, because it will not have to pay the costs of maintenance and upkeep.
Investing in key company departments. Calling on an external resource allows you to benefit from key expertise, giving you a major advantage in terms of success.
Increasing competitiveness. By outsourcing certain skills, the company maintains its competitiveness by temporarily recruiting the best professionals, processes and materials.
Anticipating peaks in activity and changes in structure. When time is of the essence, outsourcing means having the right resource at the right time, for the right length of time.
The disadvantages of outsourcing
Outsourcing also has its drawbacks:
Loss of control over skills because the company lacks the necessary tools and training
Dependence on the service provider
Lack of information or transparency regarding project stages
Etc.
Wage portage and outsourcing
Wage portage is an ideal solution for outsourcing key skills. When a company has a specific need, it calls on a consultant and builds up a genuine relationship of trust in order to complete a project.
The consultant is then asked to work on specific assignments over a given period of time.
Discover outsourcing (For HR managers)
FOR HR MANAGERS
All the answers to questions that human resources managers have about wage portage, from the company's point of view.
1. Are the different types of independent status compatible with wage portage?
2. What rules apply to ported employees working on our premises?
3. Can wage portage help us avoid reclassification?
4. If we have a problem with how a ported employee is behaving, what do we do?
5. How do you stop an assignment that has become pointless?
6. What reasons can we offer to reassure our social partners about this new status?
7. Should the social conditions enjoyed by our company's employees be extended to ported employees?
8. What are the best practices in wage portage?
9. Contact ITG Business Solutions
1. Are the different types of independent status compatible with wage portage?
Yes, and sometimes this compatibility is imposed.
Wage portage and auto-entrepreneurs:
Below the €70,000 revenue threshold (of which €33,200 is VAT-free), a company can have auto-entrepreneur status, but this presents two major risks. Auto-entrepreneurs who regularly work for a company run the risk of reclassification.
This reclassification is regularly pronounced by the courts and has two consequences:
It places the auto-entrepreneur back under common labor law, and the auto-entrepreneur then becomes an employee of the company.
The company risks being ordered to pay all related social security charges retroactively, and may even be exposed to the risk of dismissal.
For assignments where fees may exceed the threshold, independent workers cannot adopt auto-entrepreneur status. Wage portage is the most viable alternative.
A combination of the two statuses:
The law does not prohibit the combination of auto-entrepreneur and ported status.
This is why you can ask an auto-entrepreneur to become a ported employee for the assignment that your company has entrusted to you. The ported employee will be able to retain auto-entrepreneur status for other assignments or smaller budgets. Unlike auto-entrepreneurs, wage portage allows consultants to contribute to your company's pension plan, and to benefit from unemployment and social security coverage.
Wage portage and independent work:
Similarly, an independent worker can work on one or more assignments as a ported employee. All it takes is a suggestion from the client to avoid submitting a referencing application, which has little chance of success. The same applies to experts who have set up their own companies. There are no disadvantages to combining statuses, provided that these statuses are legally recognized and allow for the payment of contributions and taxes resulting from the generation of income.
2. What rules apply to ported employees working on our premises?
The client company must not force ported employees to choose their own portage company, or to choose their portage arrangement. Ported employees must choose their company and their way of working without ambiguity.
Ported employees may not replace permanent employees and their duties within the company.
Ported employees may not work with the same client for more than three years for the majority of their fees.
Under the terms of the service, ported employees are free to choose their place of work and their working hours, and have no permanent office in the client company.
3. Can wage portage help us avoid reclassification?
In the vast majority of cases, yes, because ported workers already have an employment contract. As long as this contract is valid, it is difficult to imagine anyone trying to reclassify ported employees. This is all the more true because there can be no lending of labor, because this labor is authorized under the portage system.
But there are necessary conditions for compliance with existing laws and texts:
Ported employees cannot be forced to choose a wage portage company [1] or to adopt this formula. Ported employees must choose their company and their way of working without ambiguity.
The purpose must not be to replace permanent employees with ported employees.
Ported employees may not work for a predominant share of their fees with the same client for more than three years.
Ported employees are free to choose their place of work and their working hours, and have no permanent office on the client's premises.
A residual risk of reclassification can be avoided by drawing up a clear service contract that sets out these various specifications, and by only recruiting voluntary ported employees who formally declare themselves as such, and whose choice is evaluated by the internal client, who checks the candidate's skills.
It is on points like these that a company like ITG distinguishes itself, by implementing organized and systematic due diligence to avoid any drift that could be detrimental to the client.
[1] The client can suggest a company that the client has checked to ensure that it provides all the necessary guarantees, while avoiding presenting only one company, so as to allow a choice.
4. If we have a problem with how a ported employee is behaving, what do we do?
In this case, the portage company must be informed as soon as possible. Consultants are subordinate to the wage portage company, which has disciplinary and sanctioning powers over them. At ITG, all you have to do is send an email to your B2B contact, who will contact you to inform you of the measures that will be taken, and then settle the matter with the consultant.
5. How do you stop an assignment that has become pointless?
Occasionally, a client is obliged to stop an assignment that has become irrelevant and is no longer of interest to the company. How can I terminate my contract with the portage company?
The portage assignment is defined as a business contract between the client and the portage company. This is a « bilateral » contract, the terms of which are determined by both parties in accordance with the law.
Plans must be made for a possible termination of the contract. A clause providing for the termination of the contract must be agreed between the parties. A notice period is generally set, depending on the length of the assignment. This precaution is necessary, first, to avoid putting the consultant in a difficult situation, and second, because case law tends to rule in this way.
A reasonable suggestion is to allow one day's notice per week of service if the assignment is longer than two weeks. Allow a total of three days if the assignment is less than two weeks.
This advance notice is independent of any claims relating to the way in which the assignment is carried out.
ITG's standard contracts provide a space to be filled in to indicate this notice period.
6. What reasons can we offer to reassure our social partners about this new status?
The social partners must be aware that today, portage is regulated by the ordinance adopted by the government on April 2, 2015 and the collective agreement for wage portage signed unanimously by the trade unions (CGT, FO, CFDT, CFTC, CGE-CGC) and the employers (PEPS, the union representing portage) on March 21, 2017. What's more, the unions are members of the Joint Research Panel on Wage Portage, a joint body that monitors compliance with social standards, and through which they regularly monitor developments in the profession.
7. Should the social conditions enjoyed by our company's employees be extended to ported employees?
The answer to this question is no. A ported employee of a wage portage company benefits from the conditions laid down by the wage portage company. There is no employment relationship between the client company and the ported employee.
8. What are the best practices in wage portage?
Wage portage is a recent profession, and many organizations and companies are now practicing it, often with little administrative precision or understanding of the issues involved.
To standardize and improve the conduct of the industry, a number of companies offering professional portage services have joined forces to form the PEPS union, which is governed by a code of ethics. Wage portage requires a high level of professionalism. Here are 10 good management practices and 5 good marketing practices.
The 10 best management practices:
Payment of wages from the first day of work
Many companies do not pay salaries until they have collected fees from their clients (but often advertise that they pay salaries even if the client has not yet paid). Whether one likes it or not, this is a violation of the French Labor Code, and it may have consequences for the consultant. You need to ensure that contractual wages are actually paid from the first day of activity, regardless of the date of collection from the client. If you don't do this, the consultant will be working as an undeclared worker, and will be in a difficult situation in the event of an accident, for example.
Collective bargaining and social dialogue
PEPS member wage portage companies are subject to the collective agreement on wage portage, which is the basis for calculating the « conventional » salaries to be paid according to the stated activity. It's also important to check that the portage company has a works council and a training plan to provide all the necessary and legal means of exchange and expression.
Management fees
The portage company's management fees must be clearly displayed. There must be no hidden fees, surprise surcharges or unannounced deductions (for example, surcharges for so-called advance salaries, etc.).
Wage portage work contracts
Ported workers must have a wage portage contract from the start of their activity.
Do they actually receive a copy of this employment contract? Is a mutual insurance plan offered, at least as an option? Does the supplementary pension plan for managerial staff include a death benefit (ask for the amounts and check whether the payments have actually been made)?
Professional liability
The portage company must have business and professional liability insurance: ask to see their certificate, in order to find out the amount which is insured for the ported employees.
VAT on expenses
When VAT is recovered from the consultant's fees and expenses, the portage company must credit the amount to the consultant's account: this VAT accrues to the consultant.
Managing your account
Consultants have direct, real-time access (extranet, secure access) to their account, so they know where they stand at all times. Transparency of operations, with real-time access, is a must. Access to account balances is only of value if the earnings displayed are verifiable.
Transparency and financial security
The portage company's balance sheets and earnings are filed and published each year. They clearly show the sums due in relation to the consultants' activity (salaries, social charges, insurance, etc.).
These amounts have actually been provisioned, as evidenced by a certificate from the statutory auditor. The portage company assumes legal and financial liability for the assignments.
Direct service to consultants
Each consultant's activity is processed and managed by a dedicated manager whom the consultant knows by name and to whom they can speak directly and personally.
Responsiveness
Calls and emails from corporate clients and employees are answered immediately (by telephone) or within 24 hours at the latest. Invoices and wages are issued on time and in compliance with regulations. The company must guarantee direct access to a manager, who is their contact for any issues outside the day-to-day management of their account.
The 5 best marketing practices of portage companies:
Sales support
Each consultant has a « contact person-supervisor » within the portage company to respond to their requests and to monitor their marketing activities (sales, prospecting for clients, writing proposals, negotiating prices, etc.). This supervisor has experience in the market and in consulting methods. The consultant knows this supervisor personally and has direct access to the supervisor's email address and telephone number.
Networking and team-building
The portage company offers effective networking for its consultants (clubs, meetings, building expert teams, exchange platforms, etc.); it promotes the initiatives of consultants who wish to develop a consulting or training activity under their own brand name, either alone or as part of a team; it puts them in touch with one another and supports their development right up to the possible creation of their own entity.
Skills Database
This skills database is a resource site for companies, local authorities and administrations (French, European and international) who are looking for skilled professionals.
Training
The portage company offers training programs tailored to the needs of its consultants, with reimbursements coming from its training budget: the portage company contributes financially to the individual training programs requested by its consultants (advanced training, knowledge acquisition).
Business cards and stationery
The portage company offers its consultants the opportunity to prospect for clients and to work on assignments under the portage company's own name and with its own marketing tools.